Prepare for Your 2017 Contract Negotiations
It's that time of year again – time to negotiate your contract for next year.
You want to enter into contract discussions armed with the following:
Financial Info – Accurate information about your earnings.
Performance Metrics – Stats on the golf program (number of rounds, lessons, etc.).
Comparables – Head pro compensation at comparable clubs in your area.
Goal – A strategy for what you want to achieve.
In this newsletter, I will focus on the financials.
Why Your Financials Matter
Your club's management (Golf committee, general manager, president, treasurer) should have a clear picture of your total compensation. That includes whatever the club pays you plus income generated through your outside entity (LLC, S-Corp, etc.).
That information is essential to understanding whether you are fairly compensated both for your performance and in comparison to your peers.
Your club management may not know how much money you really make. And they may think you're doing just fine.
Your job is to educate them with facts.  But your financials must be credible.
I can't emphasize this enough. If your club management doesn't believe the numbers, you will be at a severe disadvantage.
Preparing Your Financials
Your financial statement should:
Be complete and accurate
Cover multiple years
Clearly illustrate trends
Tie to your tax returns
Provide a sufficient but not overwhelming amount of detail
If you use bookkeeping software, such as QuickBooks, you probably already have the information you need. The challenge is to put the information into a format that your club management can understand and digest.
Work with your accountant to ensure that your financials are accurate and complete. Prepare a spreadsheet that covers four to five years (if you have that much history) and all the appropriate income and expense categories.
I would recommend a one-page spreadsheet with an appropriate amount of detail (but not an eye chart with dozens of lines).
Make it easy to read. Color code the statement to highlight totals and trends.
Be sure that you can reconcile the total taxable income in each year to each year's tax return.
Client Illustration 
I recently worked with a golf pro preparing his financials for discussions with the golf committee. To preserve confidentiality, I will call my client Fred.
The bottom line is that Fred's pre-tax profit dropped 8% over the four-year period. Below is a chart that illustrates the trend.
Note something interesting here. A comparison of Fred's income from 2014 to 2015 shows an INCREASE in his pre-tax profit over the year. But the overall trend over the four-year period is DOWN.
That's a very important distinction. Trends are key as opposed to a snapshot of a short period.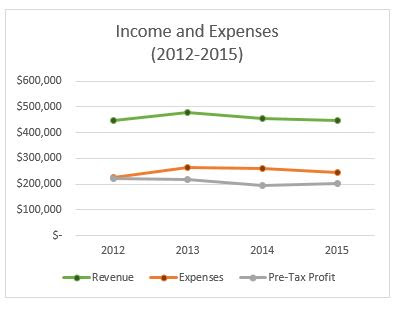 The golf committee at Fred's club was impressed with the completeness and accuracy of his financials. They have not yet finalized Fred's 2017 compensation.
But because they (a) are pleased with Fred's performance and (b) recognize that his income has declined, they are open to changing his compensation.
Financial Statement Components
Here is an overview of the components of Fred's spreadsheet.
There are two sources of revenue: "ABC Golf, Inc" (disguised name of his S-Corporation) and his club salary.
ABC Golf, Inc.
Merchandise Gross Profit – Gross profit (Revenue less cost of goods) from the golf shop.
Bag/Range/Other – Primarily driving range fees and bag storage fees.
Net Payroll – Salary payments to Fred and his assistants less lesson fee reimbursement
Other Expenses – Operating expenses for the golf program
ABC Golf, Inc. Salary – The salary Fred pays himself out of ABC's revenue
Club Salary – The salary Fred receives from the Club directly
Make Your Case with Facts
Fred got a good reception from his golf committee because he made a strong argument with his financial presentation. It's hard to dispute the facts.
As former New York Mayor Michael Bloomberg used to say "In God we trust. Everyone else brings data."
If you would like a sample spreadsheet, please email me at paul@hermancpa.com. Also, I am happy to provide any golf pro (at no cost) a 30-minute consultation on preparing the spreadsheet. Please email me to set up an appointment.